The past two weeks have been a bit of a whirlwind for me what with traveling and family visits for the holidays. Though I wish I'd have had more time to write, the good news is that we visited several restaurants for which I'm drafting blog posts. We also made a couple of trips including...Paris!
We decided to take make a three-day trip to Paris by request of my mother-in-law, who wanted to visit the D-Day beaches in Normandy. Paris was both a great hub for her visit to the north, and an easy trip for us to make from Stuttgart on the train at just 3-1/2 hours.
Paris was the first European city that I visited as a teenager studying French, and over the years I've returned over and over again, making this past visit my fifth. I've done all the touristy bits over and over again to accommodate our guests, this time being no exception, but I like that as I keep returning, I find new restaurants or activities in the city that help me to appreciate it all the more. While many people call Paris their "mistress" because of the allure, I think of Paris more as my best friend: I don't necessarily want to live with her (though I would happily at some point in my life), but each time we talk, it's like we were never apart.
This recap is by no means definitive, but I've tried to include a good overview of what I did to help you plan your own trip.
A Note on Where to Stay
I've stayed in a few hotels in Paris over the years. When I visited with my mom seven years ago, we stayed on the right bank near the Champs-Élysées. It was a lovely area to stay in, though I prefer the tiny streets and livelier atmosphere of the left bank around the Latin Quarter. We stayed in the Hotel Minerve on 13 rue des Ecoles during my college days in 2007, and found it to be a nice, clean hotel in an easily walkable location.
On our visit last week, we stayed at the Hotel Londres Saint-Honoré. Though not as nice as the Minerve, it was inexpensive and easily accommodated four people for our two-night visit. Best of all, it was just a block from the Tuileries Metro stop and another two from there to the Louvre. The location made Paris easily walkable for me, and close to the metro line for my mother-in-law.
A Note on Getting Around
On that note, getting around Paris is very easy. I'm young, relatively fit, and used to city walking. Paris is very flat, and most locations in the center around Notre Dame are easily walkable for me. I even spent an epic day in Paris two years ago with my brother-in-law and sister-in-law, during which we walked up the Champs-Élysées to the Arc de Triomphe, then headed over to Notre Dame and the Louvre before taking the Metro back to Gare de l'Est. Phew!
That said, I find the Paris Metro to be one of the easiest systems to navigate. You simply purchase a ticket, put it through the machine to enter a station, and then find the platform of the train that goes in the direction you want. The platforms are usually very easy to navigate thanks to plenty of signage (although some stations can be rather winding) and only one train line will come to one platform (as opposed to Stuttgart where you have to be careful not to get on the wrong train). Best of all, your ticket covers you for one journey anywhere within the Metro system as long as you stay underground, making travel on it very cost-effective.
Day 1
On our first day we arrived around noon and checked into our hotel, giving us a good half day in the city.
Lunch: Restaurant Le Royal Vendôme - We found this restaurant through a quick Yelp search around the neighborhood of our hotel. The interior is beautiful, featuring an old Brasserie style. They serve no-nonsense, classic French food, making it one of my favorite meals in Paris on this trip. I enjoyed an absolutely delicious beef tartare with the crispiest homemade fries and escargot (snails cooked in butter and herbs), while Matt had duck leg confit and pan-fried potatoes. Delicious!
Tip: Most restaurants offer pitchers (called a pot) of house wine. They are usually smaller than a bottle and perfect for either two people, two glasses, or for tasting more than one kind of wine during a meal. I've really missed this aspect of dining, since Germany doesn't usually offer pitchers of wine with meals.
Double-Decker Bus Tour - We started off by taking double-decker bus tour to get oriented to the city, and I can't recommend taking one enough. The busses ferry you around to all the major tourist sites, like the Arc de Triomphe and Eiffel Tower, and give you a dose of history via their audio recording while you travel. They can be expensive for a day, but if you plan to stay for two or three and want to get around, then they can be a real bargain. Just note that the top deck can get rather chilly in the winter time (as we discovered). There are many different brands in Paris, so I suggest you choose one that offers an affordable price and takes you on bus routes that interest you.
La Basilique du Sacré Cœur de Montmartre - The white basilica on the top of Montmartre is one of my very favorite churches in Paris. The interior is usually less packed, though just as beautiful, as the more famous Notre Dame. It's a bit of a hike to get up the hill, but once you're there, you're afforded a stunning view of the city (for free!). In fact, two years ago my brother-in-law was pretty lukewarm about the city and wanted to go home after I dragged him to all the touristy sites, that is until we went to Sacré Cœur just as the sun was setting. Between the nighttime lights, loads of young people drinking and playing hacky sack, and an impromptu musician playing Bob Marley's "Redemption Song", he began to appreciate the charm of Paris.
Montmartre - On your way up to Sacré Cœur, definitely check out the 17th century windmill called Moulin de la Galette and the more famous Moulin Rouge. The area was known as the Belle Époque location of the Bohemian artists Renoir, Matisse, Van Gogh, and Toulouse-Lautrec. The area still houses the red-light district, and I remember finding it rather gritty as a teenager. On our recent visit, however, I was surprised by how much more gentrified the neighborhood had become, with fewer sex shops and immigrants and more boutique shops and small restaurants. For what it's worth, I did go to the Moulin Rouge for a show when I was still in college. I remember being thrilled by the dancers (and shocked by the nudity as a young American), though I probably wouldn't pay for the experience again as I find the show rather overpriced. If it's you're first time in Paris, though, give it a shot!
Dinner: La Vache et le Cuisinier - Knowing that we would end the day at Sacré Cœur, we found this place using a Yelp search of the area. The restaurant is very tiny, but with a cool décor featuring cows, of course! For my appetizer, I enjoyed a delicious, warm ratatouille crumble that was both soft and crunchy, topped with a mild, herbed goat cheese. My main was a fantastic dish with quail breasts sautéed in a honey-lavender sauce and served with tiny pan-fried potatoes. Matt had a lovely steak with a Dijon-Béarnaise sauce and homemade fries that he insists were better than the ones I had at lunch. For dessert, we tried a non-traditional mille-feuille of apple chips and white chocolate mousse that was to die for. This was definitely my favorite dinner in Paris as each meal was classic, but with a new twist to make it just a bit fancy without the fuss of haute cuisine.
Day 2
On this day, Matt, his mother, and his sister took the train up to Normandy were they were scheduled to tour the D-Day beaches. Since I'd already been there (and highly recommend the experience), I decided to stay in Paris and do a bit of exploring on my own.
Marché Bastille - I can't remember how I found this market (maybe through TripAdvisor?), but I'm certainly glad I did. I took the Metro to the Bastille station and walked along Boulevard Richard Lenoir through the outdoor market. It really was huge, and vendors were selling everything from cheap socks and kitchen pans to fruits and vegetables. The real draw, however, are the various food stands scattered about. I saw Spanish paella, Lebanese samosas, fresh oysters, and so much more. It was a good thing that I arrived hungry, because I had the best galette bretonne (a kind of buckwheat crêpe) filled with cheese, egg, and andouille sausage followed by a fresh, baked pain au chocolat. I only wish that I had had Matt with me so that we could have shared and tried more food together.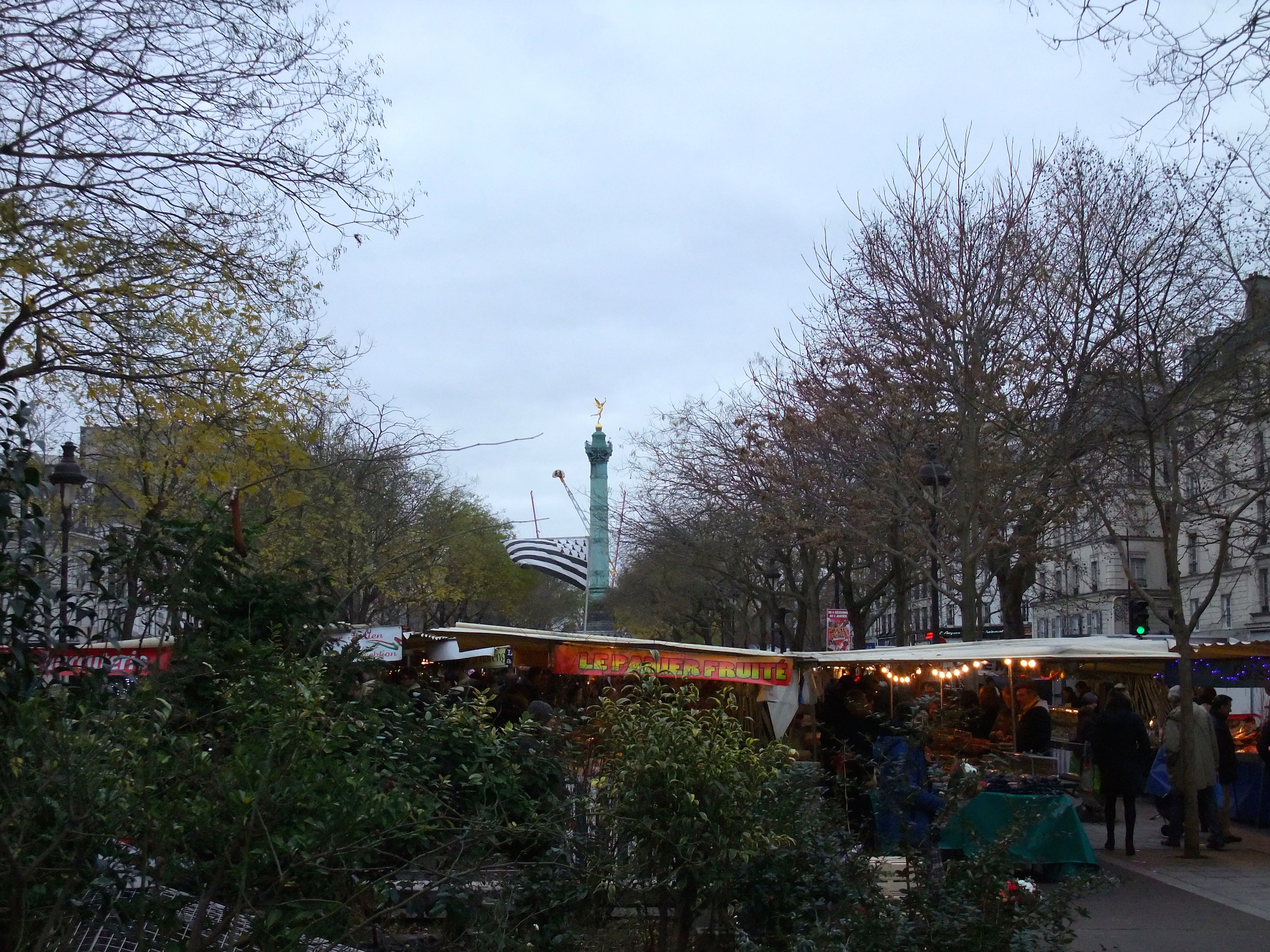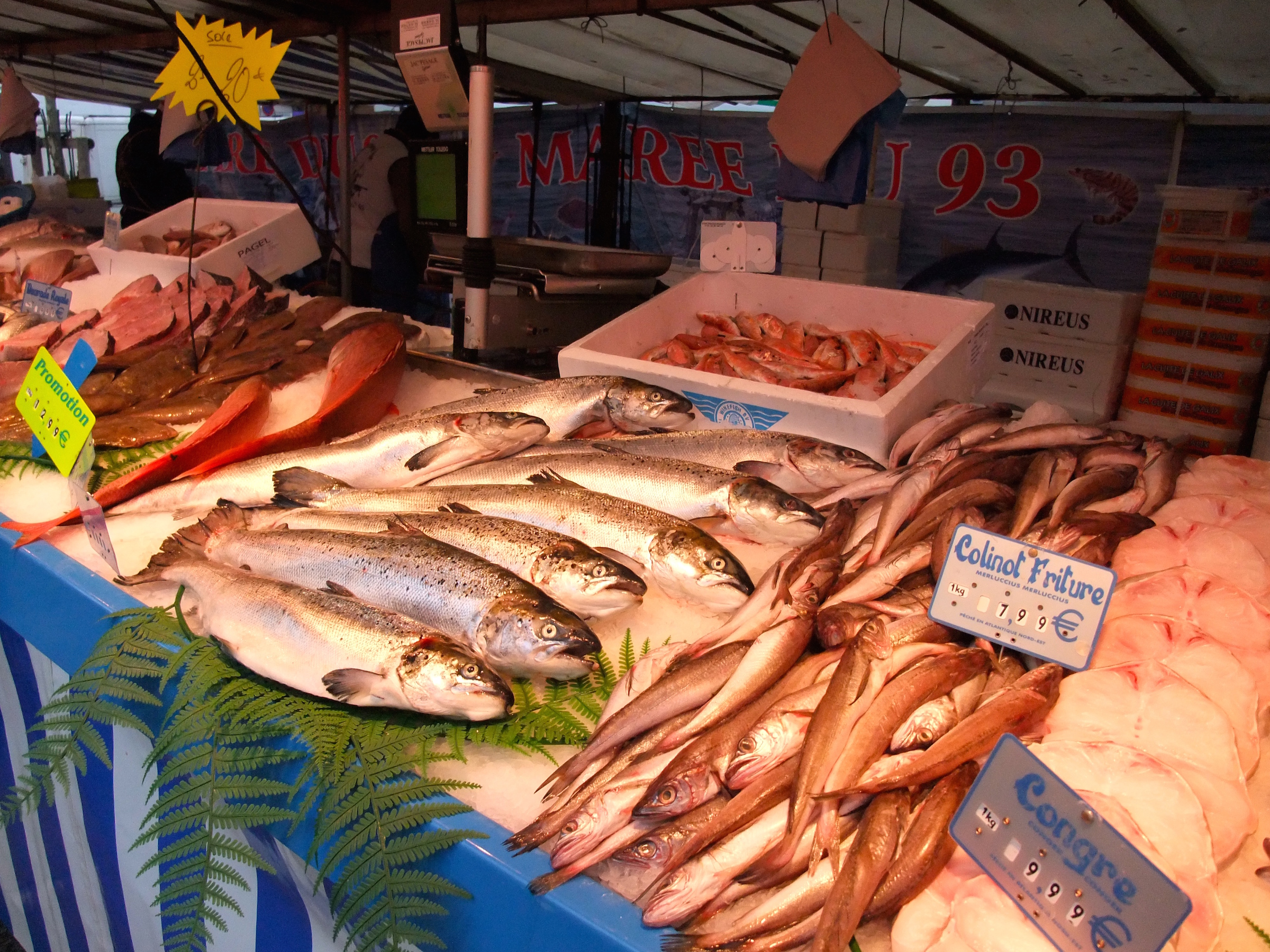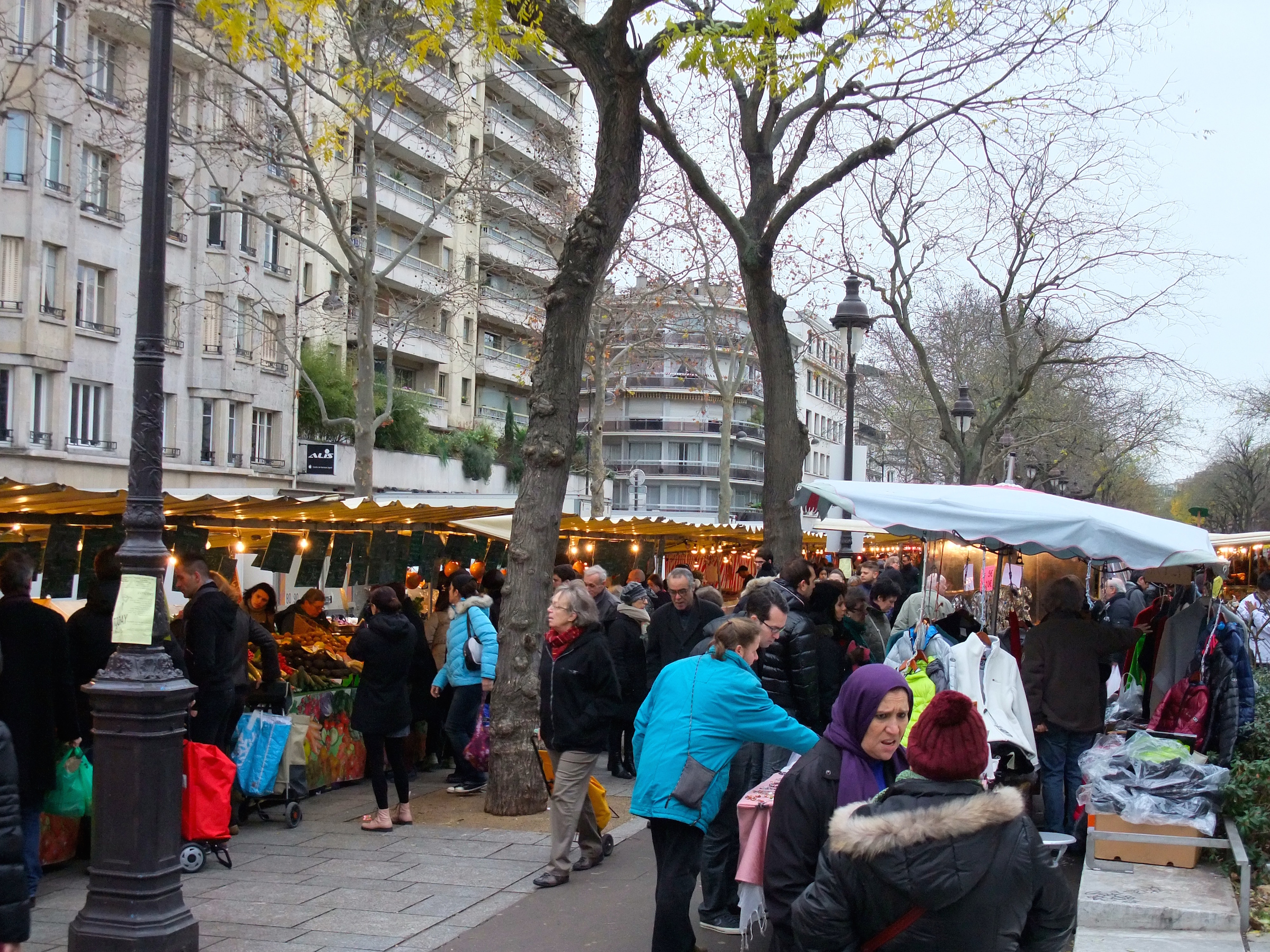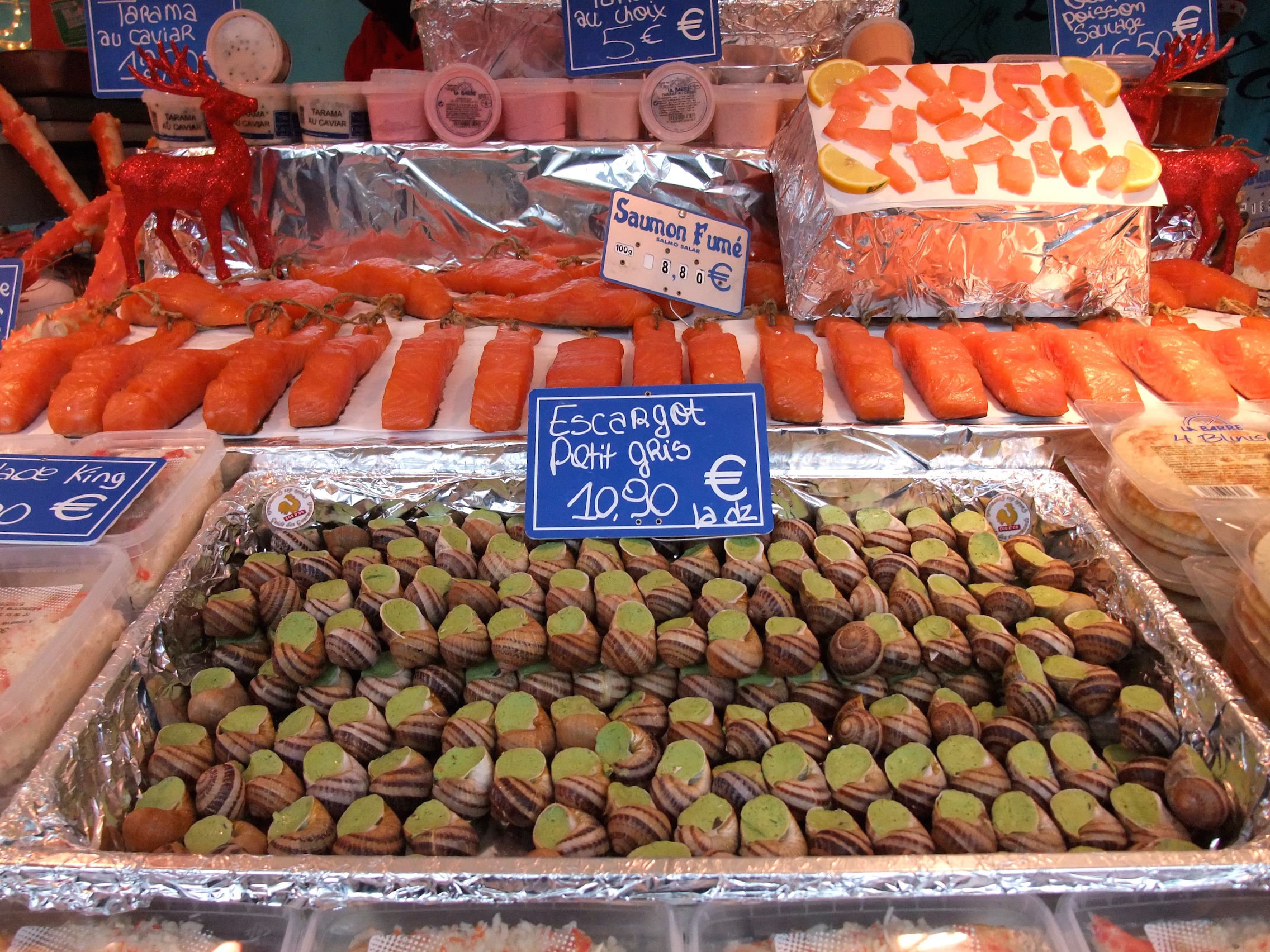 Île Saint-Louis - After the market, I walked down to the Seine to the Île Saint-Louis. This island to the east of Île de la Cité is smaller and more quaint than its larger brother. I love this area for the cute boutique shops and ice cream from Maison Berthillon. I remember tasting a rather delicious rose petal sorbet when I was a college student here, though they have many different flavors, both traditional and out of the ordinary.
Banks of the Seine - Definitely walk along the banks of the Seine and browse the rows of green stalls run by the bouquinistes selling both used and antique books. A lot of the souvenirs are junk, but you can also find a good many antique books for cheap. If newer English books are more your taste, than also be sure to visit the famous Shakespeare and Co. on rue de la Bûcherie. Though not the original location, this tiny bookshop was renamed in honor of the original bookstore opened by Sylvia Beach and frequented by the likes of Ford Maddox Ford, Ezra Pound, James Joyce, and Ernest Hemigway. This was my first visit to the bookstore, and though you'll pay a bit more for the books (which are all imported, mind you), it's worth the stop. On your walk, also keep an eye out for the local watercolor artists during the day and impromptu street performers at night. Young couples and groups of friends will also often use the river banks for picnics on nice days, and you should feel free to do so as well.
Dinner: Restaurant Polidor - I decided to check this restaurant out even thought the reviews were a bit hit or miss on Yelp and TripAdvisor. The big draw for me was that the restaurant was opened in 1848 and fed many of the famous expat Paris writers, including Joyce and Hemmigway, making it a nice way to wrap up my day. To be honest, the food was just as hit or miss. I ordered the prix fixe menu tradition and thoroughly enjoyed my simple, creamy homemade pâté. I also liked my duck leg confit and sauerkraut, which was good but not "wow", though my tarte tatin was a bit too formless, resembling a yam pie or something else instead. If you try it, go for the ambience, but know that there are better meals to be had in Paris.
Day 3
We spent our last day in Paris with a return trip to Stuttgart departing around 7 pm, so we really tried to pack as much as possible.
Cathédrale Notre Dame de Paris - Again, Notre Dame on Île de la Cité is very touristy, but one of those must-see sights in Paris. We visited just before 9:00 AM, about an hour after opening on a Monday, and completely avoided the lines. The only downside was that the lighting wasn't so great through the beautiful stained-glass rose windows on the grey winter morning, and the tower didn't open until 10:00 AM, which I would definitely recommend you visit for the lovely view of the skyline and pictures of the famous gargoyles.
Musée du Louvre - I really don't think there's any way to avoid a line at the Louvre, though it probably helps to go first thing when they open at 9:00 AM. We went at 10:00 AM on Monday and still had to wait in line for about an hour just to get through security. The crowds were also pretty horrendous throughout the museum, so expect to be jostled about a bit. Still, it's worth it to see the Mona Lisa, Cupid and Psyche, and Napoleon's apartment, among other sights. Just know that the Louvre is massive, and it would take at least three days, if not longer, to see everything at a leisurely pace. Also, be sure to look around at the architecture as the former-palace-turned-museum is also a beautiful building on its own.
Tip: Below the Louvre is a really cool shopping center called Carrousel du Louvre. Sure, a lot of the boutiques can be overpriced because of their location, but I was thrilled to find some of the more boutique-style stores, like Delfonics, a Japanese stationary company based in Tokyo, and La Maison du Chocolat, a high-end chocolatier. We picked up some delicious macarons and an éclair au chocolat for the train ride home, which seems to be becoming a tradition for us.
Tour Eiffel - You simply can't visit Paris without seeing the Eiffel Tower. The views are simply stunning the first time you see the Paris skyline, making this my mother-in-law's favorite activity in Paris. However, I would recommend you buy your tickets online to avoid the line, and go earlier or later in the day to avoid peak times.
Tip: You can also avoid the line by dining at the swanky Jules Verne restaurant on the second floor. The restaurant has its own private lift and you can enjoy the view from the tower away from the hustle and bustle of the crowds as you dine on some of the priciest food in Paris (see my note on the food below). I've dined here twice -- once as a teenager with my sister and again with my mother as a college student -- and though the meals were very expensive, they were definitely some of the most memorable experiences of my life.
Dinner: Le Comptoir de la Gastronomie - I chose this restaurant because it had some great Yelp reviews and is located just four stops from Gare de l'Est along the M4 line, making it an ideal place to end our day. Unfortunately, our day was so jam-packed that we just had enough time to eat and not enough time to look around the shop (Comptoir is a fine grocer first with a restaurant on the side). I was, however, extremely impressed by our food, and I will definitely make it a stop when we return. My onion soup was superb, though Matt's cassoulet (a traditional dish of slow-cooked meat, usually duck, and white beans) was heavenly. We both joked that we burnt our tongues because we were eating so fast -- both to make our train and because the food was that good!
We only had three days in Paris, but if you have more time, then there are lots of other things that you should try. While I like the Louvre, the Musée d'Orsay is still my favorite museum in Paris. It houses the largest collection of impressionist paintings by Monet, Degas, Renoir, Seurat, Gauguin, and Van Gogh in the world. It also helps that the museum is much smaller and thus more manageable than the Louvre, and that it's housed in an old turn-of-the-century train station.
The Centre Pompidou is also pretty incredible. You might recognize it by its brightly-colored, exposed-pipe exterior that houses the city's museum of modern art. I remember visiting for my first time as a college student and being awed by airplanes made out of scissors and stunning paintings of creatures seemingly from dreams. Even if you don't like modern art, you should still give this museum a shot.
If you have time for a stroll, check out the Jardin du Luxembourg, the well-landscaped garden behind the Luxembourg Palace (currently home to the French Senate). I think it's the most lovely garden in Paris (though the Tulieries are a close second), and you might find it interesting to see the original model for the Statue of Liberty there.
Finally, if you have the time, then you must see the Château de Versailles. This palace built by Louis XIV in the 17th century is still the most opulent palace that I've seen in Europe. I've been there twice, and both times I was blown away by the scale and detail of both the interior rooms and gardens. The palace is only about 20 minutes outside of the city by local train (RER), making it easily accessible for a morning or afternoon visit.
Have you been to Paris? What are your favorite sites and bites?