Matt and I celebrate our five-year anniversary this November (yay!), and so to mark the occasion, we decided to spend my fall break this past week in Barcelona, the city where we began our honeymoon. Everything was amazing -- the food, the weather, the sights -- and so I wanted to share some of our favorite sights and bites should you decide to go on a Barcelona trip of your own in the future.
Getting There and Around
Stuttgart offers direct flights to Barcelona, so getting there was very easy. We simply took the S-bahn to the airport from Stuttgart's main station and after a two-hour flight arrived in sunny Barcelona (which was a stark contrast to our already cold, grey Germany). To get from the Barcelona airport into the city, we took the Aerobús, which left the airport every 10 minutes and conveniently dropped us off in the center of Plaça de Catalunya for just 5,90€ one-way.
While in Barcelona, we chose to go with an AirBnB apartment centrally located near Plaça de Catalunya. We had a great first experience with AirBnB during our trip to Prague, and decided to give it another shot. We find that having the convenience of a kitchen is especially nice on long trips, and we saved money by making our breakfasts and morning coffees at home.
Since our apartment was in the city center, we were also able to walk pretty much everywhere, from the Gothic quarter and El Born to El Raval and L'Eixample. Only on our trips to the northern part of Gràcia did we take the metro, which I found to be easy to navigate, clean, and convenient. Tickets were about 2€ a piece for a single journey, and we could buy them at machines that gave us directions in English.
In fact, not knowing Spanish wasn't a huge problem on our trip. Most people spoke enough English to be understood, and I never felt like we were taken advantage of. That said, Matt's high school Spanish and my French (with regards to Catalan) did come in handy for ordering food, buying tickets, and asking questions.
Note: I try to be very aware when I travel, but on this trip we were especially careful after reading some sites that said that pickpockets are a particular problem in Barcelona (as they are in most major cities). However, we genuinely had a pleasant experience thanks to a little common sense -- don't leave your purse or bags on the ground or on your chair back out of sight, don't wear expensive jewelry, and don't get caught up in "odd" conversations (pickpockets have all sorts of scams to divert your attention away from your belongings).
Rather, the biggest problem I found were beggars. Spain's economy has been hit particularly hard the past few years and the unemployment rate is still around 25%. People often came up to us while we sat at cafés asking for money, or we'd see people on the side of the street (usually with dogs) asking for spare change. While they were never aggressive, just be aware that this is an issue and keep your change handy (in a pocket rather than your wallet) or not as you see fit.
What to See
Museu de la Xocolata -- One of the first places that we visited in the city was the chocolate museum. (We were actually on a chocolate and cava tour, but I honestly wouldn't recommend it for the price. Although we got to try some delicious chocolate, our guide didn't offer much beyond what we could have gotten on our own at the museum.) The museum contains three video rooms with information about the history of chocolate and how it came to Spain, a collection of chocolate-making paraphernalia, and, most impressively, a number of chocolate sculptures, including some famous works by Cervantes, Gaudi, and Pixar.
Palau de la Música -- I wanted to see the inside of the Palau for its modernisme design, and you can pay a small fee to go on a tour the building. However, we decided to go one step further and actually see a Spanish guitar performance by Manuel González. I'd never seen anything like it, and was thoroughly impressed by both the concert hall with its gorgeous stained-glass window and by González's skill. I would highly recommend you try to attend a concert, if you can.
Casa Batlló -- Antoni Gaudí, the famous modernisme architect, designed several beautiful parks and buildings around Barcelona, and this one was by far my favorite! Casa Batlló features curved living spaces, colorfully tiled walls, and an overall aquatic look. The price to get in isn't exactly cheap at 21,50€, but it's worth it to have an audio guide and a look inside this beautiful home designed for the Batlló family. In fact, there are several examples of modernisme architecture in that area on Passieg de Gràcia if you want to have a stroll around the block. I suggest you visit the house after 4:30 or 5 pm if you want to avoid the crowds.
Park Güell -- Another of Gaudi's works, this park was designed under the patronage of the Catalan businessman, Eusebi Güell. I especially liked the park's iconic mosaic salamander and stunning mosaic terrace, which sits in colorful contrast to the rough stone columns of the potico and spiral ramp. Again, you have to pay to get in to the center area of the park, but it's worth the 7€ for the view of the city.
Museu Picasso -- The Picasso Museum houses many of Picasso's early works, and so I found it fascinating to see his growth as a painter (Did you know he started showing paintings at the age of fourteen?). There was also a very interesting photo exhibit in the museum at the time of our visit showing some more intimate scenes of Picasso's later life. Just be aware that some of his more famous cubist paintings, like Les Demoiselles de Avignon, are at the Met or various other museums, and so you can't see them here. Tickets to get into the museum are 11€ and can be purchased online. I highly recommend you buy your tickets in advance as the line to get in can wind around the block during peak visiting hours. Our tickets allowed us to enter when the museum opened at 9 am, and so we were able to completely by-pass the short line and were one of the first visitors to enter that day.
La Rambla and La Boqueria -- Of course you can't visit Barcelona without seeing La Rambla. This pedestrian walkway stretches about one kilometer from Plaça de Catalunya to the Christopher Columbus statue near the harbor at Port Vell. Keep an eye out for La Boqueria, an old-fashioned covered market on the El Raval side of the street where you can find everything from fresh fruits and meats to tapas. We visited La Rambla both during the day and at night, and it was equally packed with tourists during both times, so you can't really avoid the crowds. Either time, just be sure to be aware of your belongings as pickpockets frequent the area, and avoid eating at the overpriced, sub-par tapas restaurants along the avenue.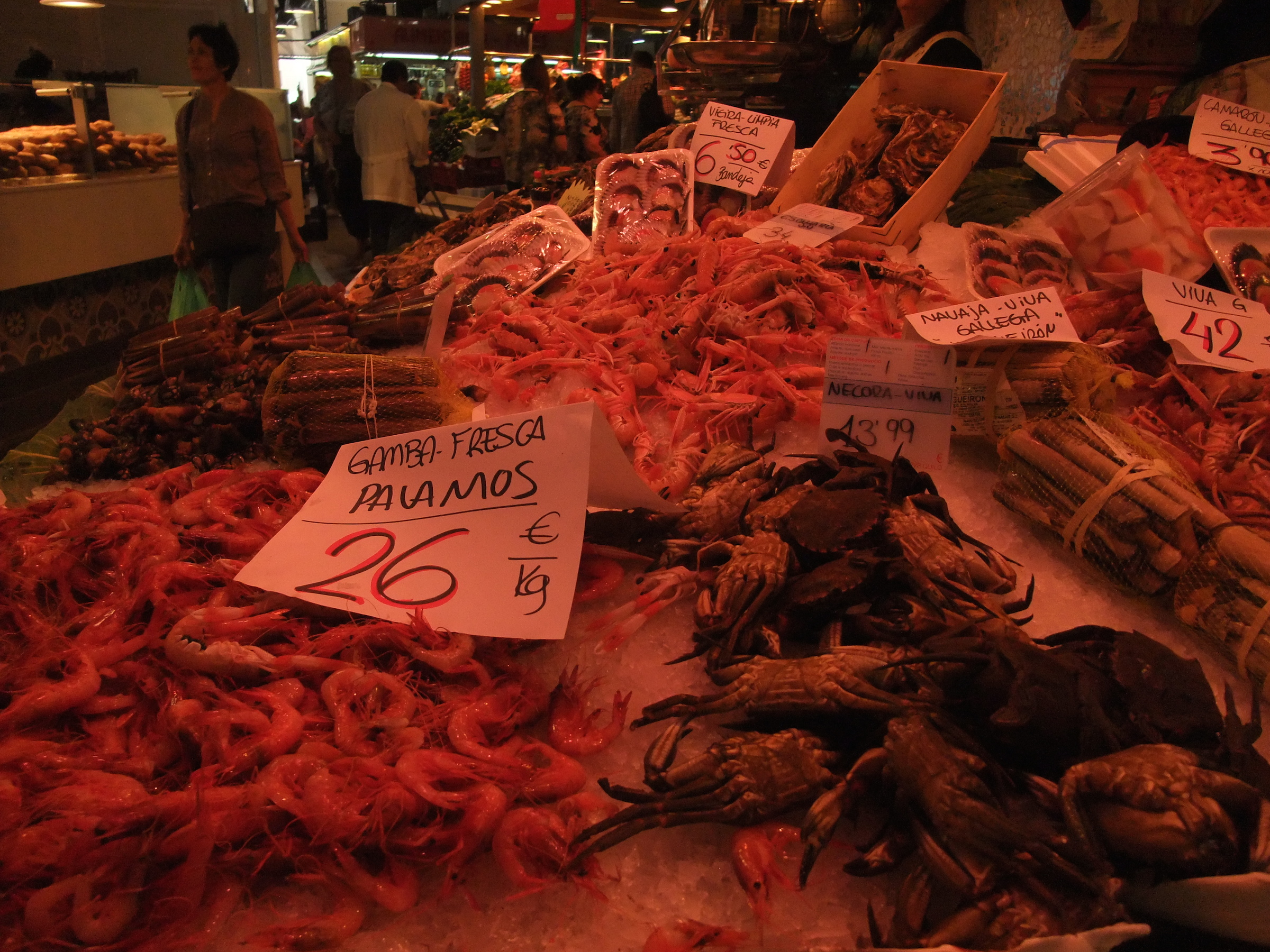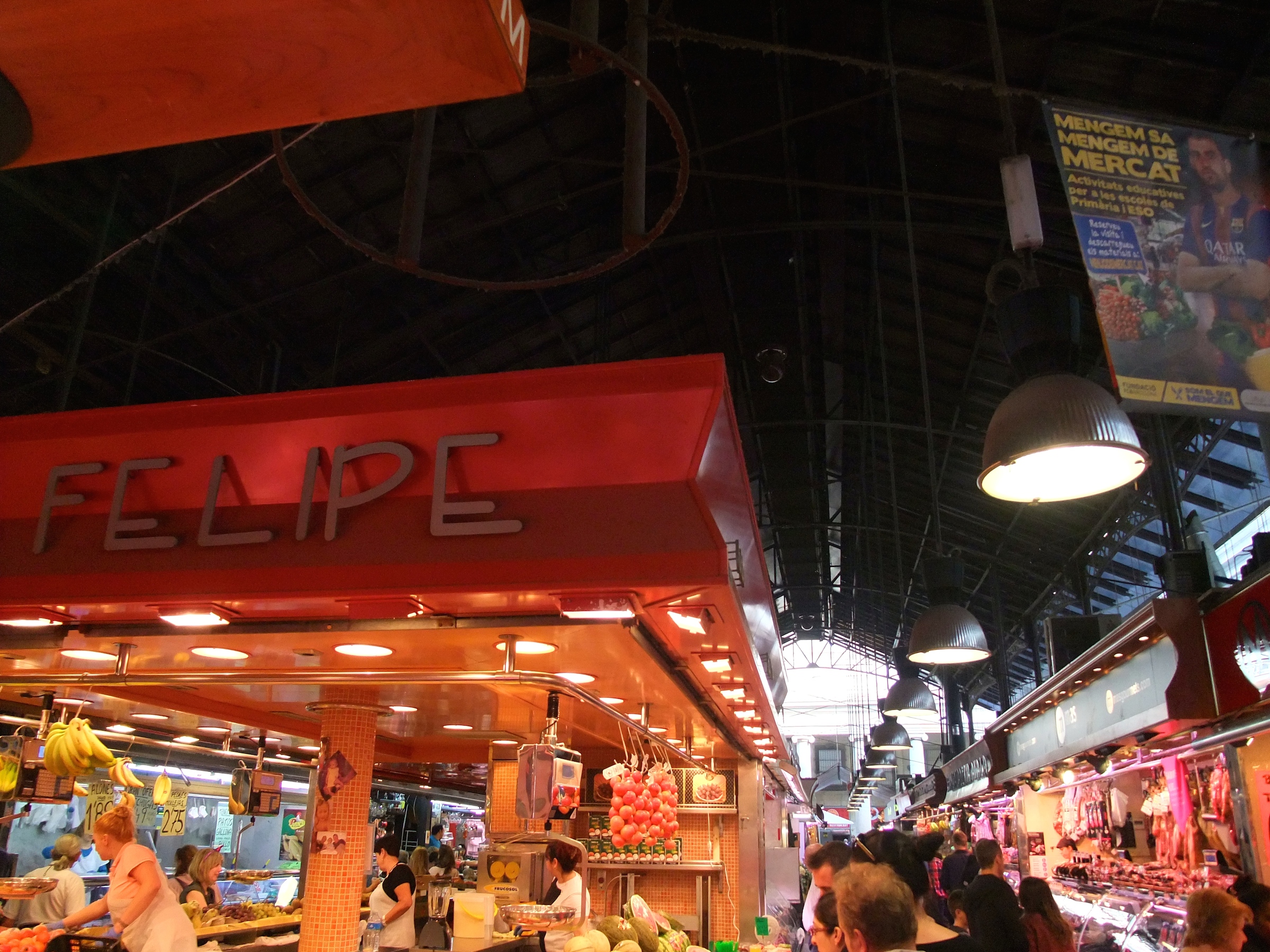 Sagrada Familia -- One of the most impressive sights of our tour was definitely the Sagrada Familia. This Roman Catholic church was begun by Antoni Gaudí in 1883 and is still being finished today (expected completion is 2026). I was impressed by how much work they'd completed on the church since our 2009 visit. We went inside for the first time on this trip, and Matt especially was blown away by the height and grandeur of the interior. I really liked how everything followed a very natural design, from the animals on the Nativity Façade to the tree-like pillars on the inside of the church. Again, skip the line by purchasing tickets (19,30€ per person) online.
What to Do
Hop-on/Hop-off Bus Tour -- I know that this one is cheating a little bit since we did this in 2009 and not on our most recent trip, but I feel it deserves mention. I really enjoy taking these kinds of hop-on/hop-off bus tours when I'm in a city for the first time as they can give you a good overview of the history and main attractions in a city at half the price (and usually time) it would take you to navigate the city yourself on the metro or in a taxi. On our first trip we only had about a day in the city anyway until we boarded our cruise ship, so the hop-on/hop-off bus tour helped us get a good impression of the city and pack a lot of sightseeing into our few hours there. Because of our tour, we knew even then that we wanted to return to Barcelona one day (and we did!).
Taste Barcelona Tapas Tour -- This was one of my favorite activities on our trip. Our guide Paul (an Aussie by way of London now living in Barcelona) was incredibly knowledgeable about the history, food, and wine of the Catalan region, and gave us several great recommendations for restaurants in Barcelona that we later tried. Our five-hour walking tour included stops to Ciudad Condal for langoustines (prawns/shrimp), camembert crujiente (crunchy fried camembert), and cangrejo (crab) montaditos paired with a white Verdejo wine from the Rueda region. At Bar 1800 we tried several traditional tapas including patatas bravas and patatas con all-i-oli (fried potatoes with spicy and garlic sauces), tortilla española (potato omelette), boquerones (white anchovies), and croquetas de pollo (chicken croquettes) with a Tempranillo/Cabernet Sauvignon/Merlot rosé wine from the Catalunya region. Then we stopped at La Vinateria del Call for a selection of sheep, cow, and goat cheeses paired with different kinds of Spanish hams, including chorizo and Jamón ibérico, along with a red wine (or rather black wine, as it's called in Spain) made from a Garnacha/Samso/Syrah/Cabernet Sauvignon blend from the Terra Alta region. Finally, our tour ended with a bottle of cava sparkling wine made from a blend of Macabeo/Xarel.lo/Chardonnay/Parellada from the Catalunya region. The tour cost 95€ per person, but was well worth the money given the amount of food and knowledge that we consumed. I was only sad to learn that Spain consumes something like 80% of the wine produced in the country, and so the chances of us finding some of these bottles in Germany are limited.
Espai Boisà Cooking Class -- We found a flyer for Espai Boisà at the tourist office and I'm very happy that we decided to give it a shot. We learned how to make three different appetizers (wild mushroom "Trinxat", codfish with tomato, raisins, and pine nuts, and Spanish omelet with bread and tomato), along with a seafood paella for our main dish and Catalan cream for dessert. We were in a small group of seven people total (including us), which meant that each of us had equal cooking and instruction time from the chef. I was quite proud of the Spanish omelet and the wild mushrooms that we helped to make, and Matt did a fine job chopping up squid for the paella. The class (in English) lasted around three hours and cost 70€ per person. Best of all, we got to drink unlimited red and white wines from the fridge while we cooked! I definitely want to try to do this again on our next trip.
Hike to the Bunker del Carmel -- I can't remember how we heard about this (TripAdvisor? a friend?), but Matt decided that it would be fun to hike up the hill at the north of the Carmel area to see some skyline views of the city from an old 1937 bunker. I admit that I wasn't thrilled at first since I couldn't exactly pack my hiking shoes given our one carry-on limit with Vueling, however, the views really were stunning. Sadly, the path to the bunker was blocked off with construction gates, though that didn't seem to stop some local teenagers. Not feeling particularly anarchist that day, we decided not to jump the barrier. Still, the view from the platform directly below the bunker was amazing and it was easy enough to get to from the Alfons X metro stop (or even from Sagrada Familia, if you're feeling adventurous). I would recommend it if you're looking to get out of the city; just be sure to bring your hiking boots.
Tarragona -- Even though I was disappointed with our chocolate and cava tour, we did get a good recommendation from our tour guide to visit the tiny coastal city of Tarragona. The city is known for its Roman ruins, and we had a great time exploring the amphitheatre, old Roman walls, winding streets, and the gorgeous cathedral. The weather was lovely and the views over the ocean were stunning, and for the first time in three (or more?) years, I got to put my toes in the sand on the beach and feel the waves foam over my feet. We simply took the Express regional train from Passieg de Gràcia and were there in about an hour (though the trip took longer to get there than back as there was a 20-minute delay with the train). The cost was 12€ round-trip, though for some reason the automated machines wouldn't take our cash and we had to pay at the teller who charged us 16€ a piece, though unlike the machine tickets, we could choose our departure and return times. Despite this, Tarragona was delightful, and easy to get to from Barcelona.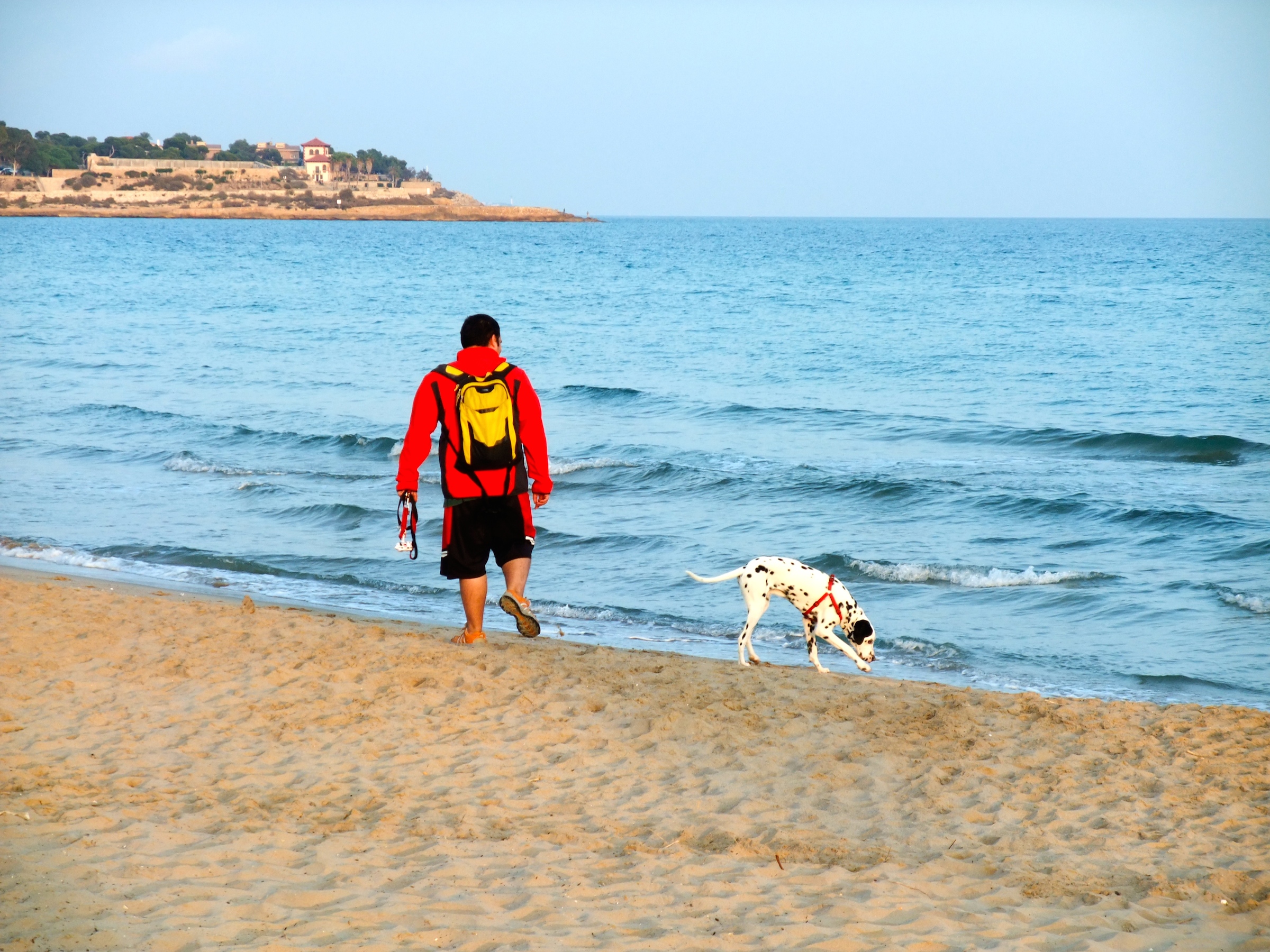 Even though we spent a good seven days in Barcelona, I still felt like there was more we could have seen. For instance, I saw advertisements for a wine tour up to the Montserrat Monastery from the city that looked interesting. We also didn't get to visit Montjuïc this time to see the Palau Nacional with its collection of Catalan art or the historic fortress. Granted, the funicular was closed the week of our visit, and I would have wanted to have ridden it. We also didn't see the Sant Pau hospital, also in the modernisme style, or Plaça d'Espanya with its lovely towers, though we saw this on the bus tour we took on our first trip. And despite our trip to the beach at Tarragona, we could have spent a day at the beach in Barcelona had we wanted to.
Since this post is already quite long, I'm going to leave my restaurant recommendations for another post. Click here to read Part 2 on Food!