We saw, did, and ate so much in Barcelona that I've had to split my recap into two parts. In Part 1 I talked about everything that we saw and did in the city, including our tasty cooking class with Espai Boisà and our tapas tour with taste Barcelona. In this part, I'll give you my recommendations for places to eat.
It wasn't hard to make this list. We had so many good meals in Barcelona, that I'm actually a little sad to be back in Germany. The ability to taste so many small plates of tapas really fit with my indecisiveness and love of many different flavors. In fact, we spent the day before our return simply walking around the city and moving from one great tapas bar to another. It was a nice end to our vacation.
Note: Eating times in Spain are a bit later than Americans might be used to. Lunch was usually around 2 pm and meant to be the biggest meal of the day (like in Germany). As such, dinner is meant to be a lighter affair usually starting at 9-10 pm. The shops tend to follow this schedule, too, with most opening from 10 am - 2 pm and then 4 - 8 pm. If, however, you're like me and can't wait to eat so late, then many tapas bars opened earlier so that you could have a snack (or two) during the day.
Where to Eat
Barceloneta/Port Vell -- Eager to repeat an amazing paella meal (a kind of Spanish rice dish cooked with saffron, broth, and seafood or meat) that we had in the Barceloneta area on our first trip to Barcelona, we asked our AirBnB hosts to give us a good recommendation for paella. They said that there were many restaurants by the water that are good because of their proximity to the harbor, but they recommended trying El Chipirón de Moncho at the new Maremagnum shopping center on Port Vell. We had a lovely walk down La Rambla and across the bridge to the shopping plaza. The restaurant is located on the water, and they have a large terrace outside. Featuring a menu packed with fresh seafood dishes, El Chipirón serves three different kinds of paella. We decided to splurge for the lobster paella, and it was every bit as delicious as we were hoping for. If you want an easy place with fresh seafood, definitely go here, though you can find other good paella restaurants as we did along the shore.
Ciudad Condal -- We ate here first on Sunday night with friends on recommendation from our friends' coworker, and then again as the first stop on our taste Barcelona tour. Needless to say, the food was superb and surprisingly affordable. On our first visit we stuck with the basics: patatas bravas, Iberian ham, chorizo sandwiches, chicken croquettes, calamari rings, a kind of eggplant with cheese, and, of course, sangria. We even splurged and got dessert: flan, a pumpkin pastry, and a strawberry pastry. The following night when we returned, our taste Barcelona tour guide challenged our taste buds with langoustinos montaditos (shrimp and aioli on a slice of bread), crunchy camembert skewers with raspberry jam, and cangrejo montaditos (crab salad on a slice of bread). We also had a bottle of Saltimbanqui, a white wine made from the Verdejo grape from the Rueda region. Everything was delicious, and I'm glad we were able to visit this place twice to really enjoy all of their offerings.
Carrer de Petritxol -- This is a street recommended to us by our taste Barcelona tour guide as having some great places to get chocolate and churros. We stopped in a little place called Granja Dulcinea to enjoy some deliciously thick hot chocolate and fresh fried churros. Just be sure to go at the right time, either during "morning tea" from 11 am - 1 pm or afternoon tea from 5-7 pm.
Any Sweet Shop -- Really, I can't recommend any single sweet shop because we stopped in so many different, wonderful bakeries and other speciality food stores. Of the ones we tried, I do remember Bubó for their delicious chocolate cakes, Olimar for their local Catalan foods, including catànies (white chocolate-covered, caramel-coated almonds), and Chök for their delicious homemade donuts and cronuts. Also, don't leave without trying panellets de pinyó (pine nut cookies) and turrón (a kind of nougat made with nuts, honey, sugar, and egg whites).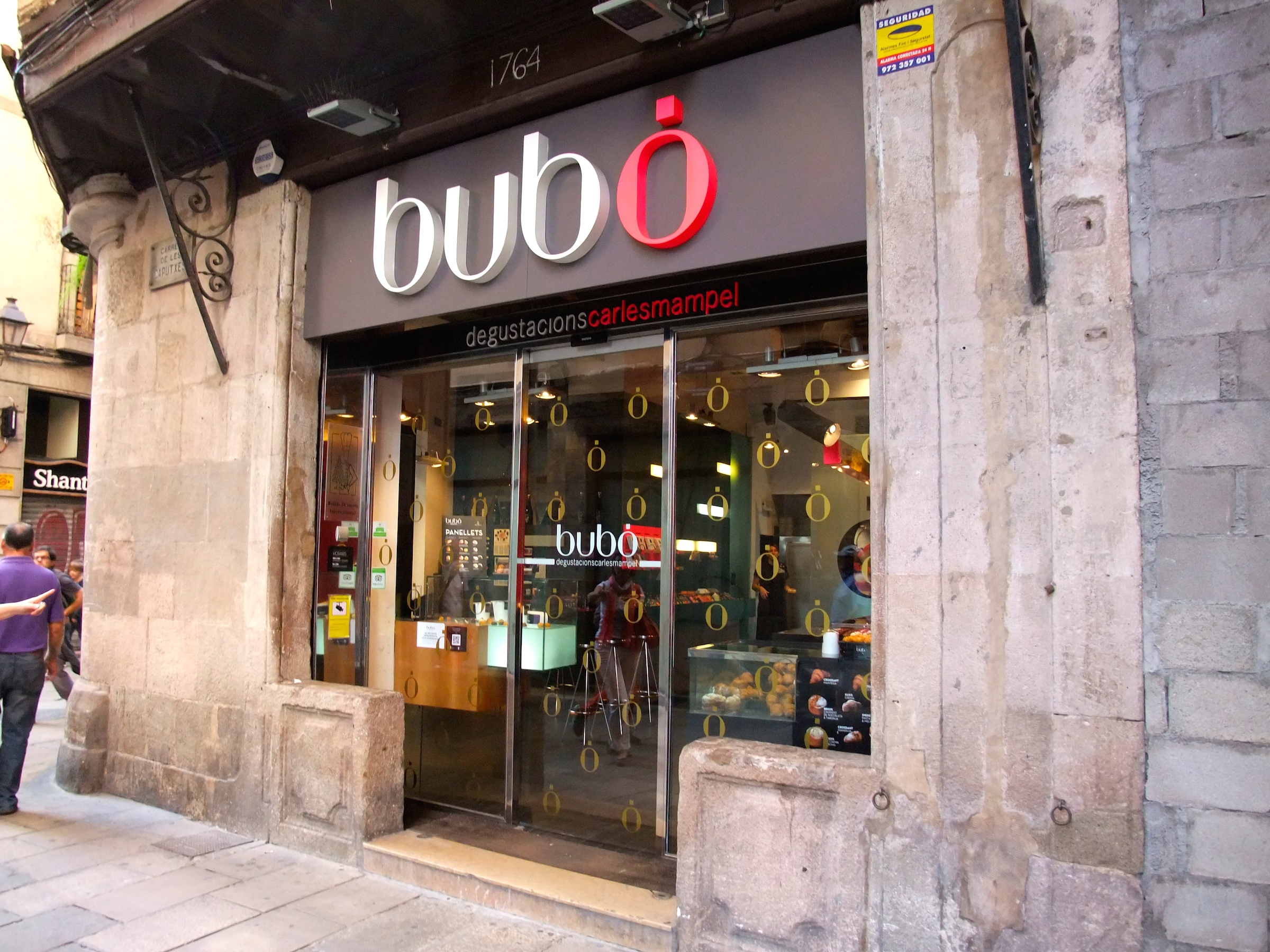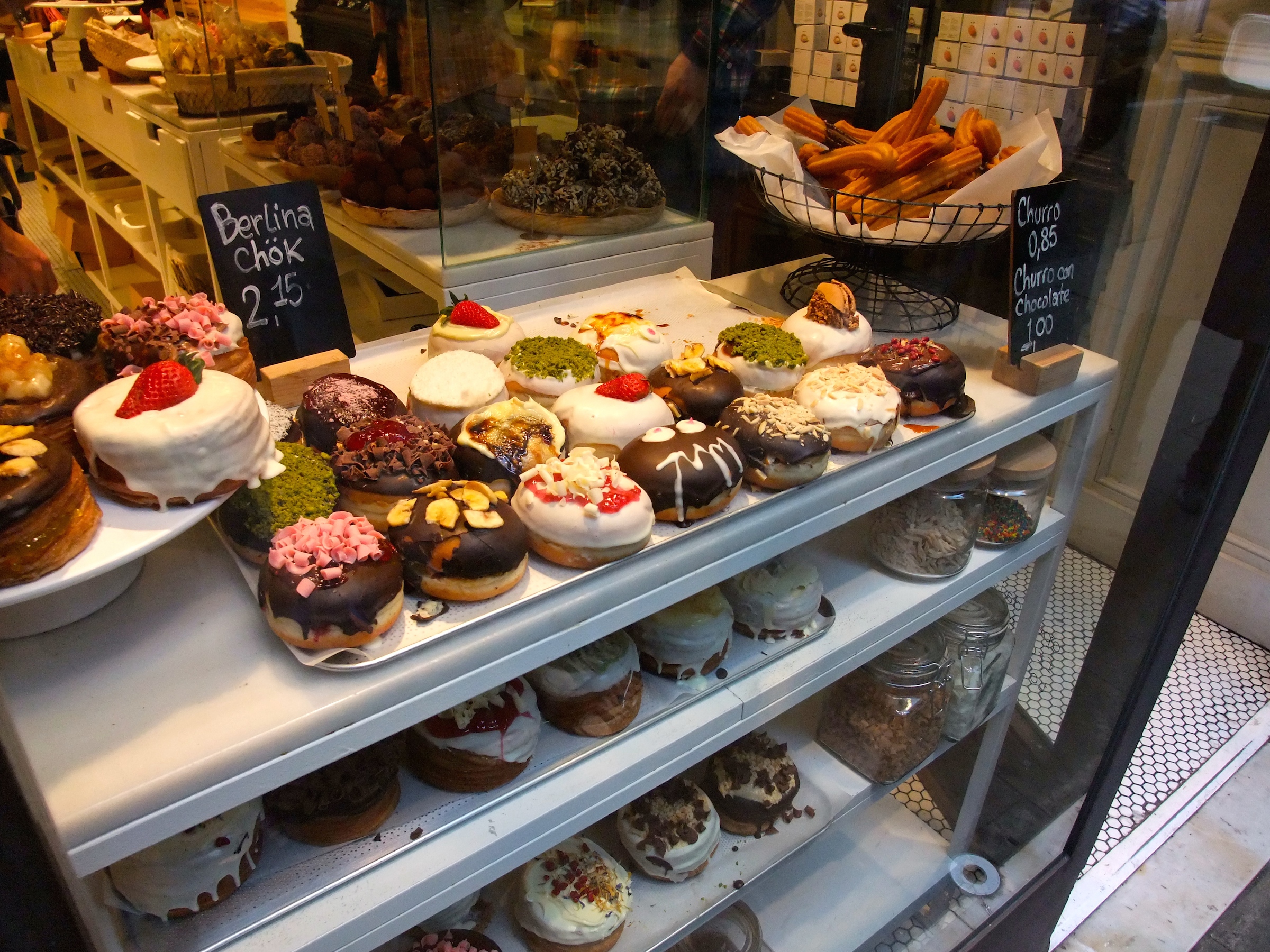 Bar 1800 -- This was the second stop on our taste Barcelona tapas tour. We were told it's good for traditional favorites, including patatas bravas made fresh from hand-peeled potatoes that are first oven roasted and then sautéed in a pan with oil for a crispy outer skin before serving. We tried them with both garlic aioli and a spicy brava sauce. We also tried a traditional Spanish tortilla, boquerones (white anchovies marinated in vinegar), choricitos (little chorizo sausages), buñuelos de bacalao (cod fritters), croquets de pollo (chicken croquettes), chocos (fried cuttlefish), pimientos de padron (padron peppers), and ensaladilla rusa (Russian potato salad). To go with our meal, we had a bottle of Bach Viña Extrísima Rosado from the Catalunya region. Again, everything was delicious, and the location along the Rambla del Raval was lovely. We stopped by again one afternoon to enjoy a pitcher of sangria in the sunshine.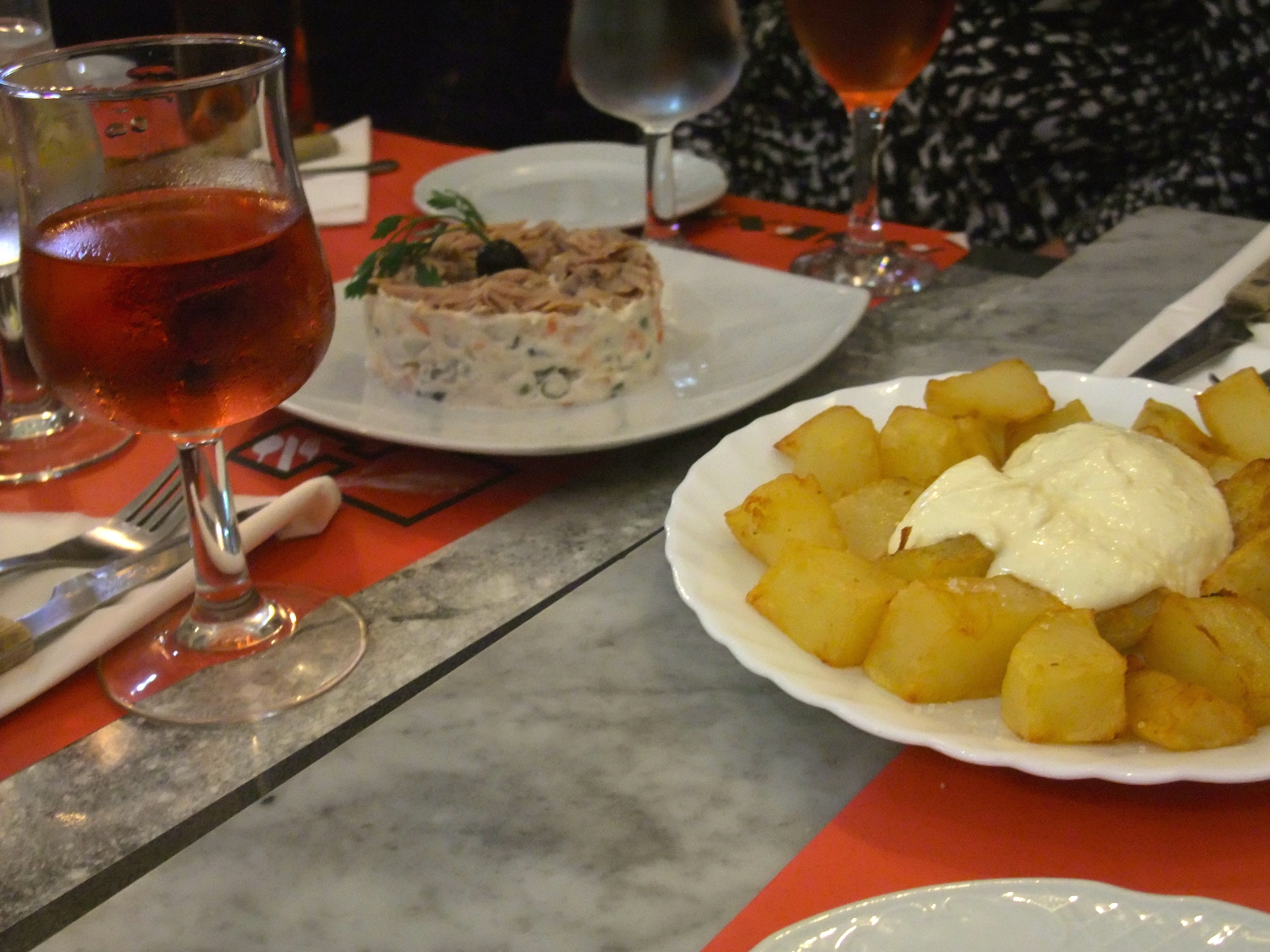 La Vinateria del Call -- Our third stop on our taste Barcelona tapas tour was this tiny tavern in the old Jewish area of Barcelona. We enjoyed a number of meats, including the famous Jamón Ibérico, and a cheese platter with two different kinds each of sheep, cow, and goat cheeses, all served with pan con tomate (bread with tomato). We were also served a red (or rather black, as it's called in Spain) wine called Llagrimes de Tardo from the Terra Alta region of Catalunya. The blend of garnacha, samso, syrah, and cabernet sauvignon made it my favorite wine on our trip.
El Pachuco -- This place was, without a doubt, one of my favorite meals in Barcelona. I feel like it's cheating a bit since the food is Mexican and not Spanish, and if you're an American traveling from the States, then you probably won't be too interested. However, as I haven't been back to the States in 2-1/2 years and we just can't get good Mexican food in Stuttgart, I was thrilled to find El Pachuco on recommendation from another member of our tapas tour group. I have to admit, I was a little wary after the bartender/chef tried to talk us out of getting all the food that I wanted (tacos, quesadillas, guacamole, and nachos) since that rarely happens, but I understood once I saw the size of the nacho bowl. It was a big, beautiful mess of homemade tortilla chips, pulled chicken, beans, cheese, guacamole, salsa, and sour cream. The dish was so good that I got it again at the end of the week when we returned. Matt's carnitas (pork) tacos with pork cracklings were pretty delicious, too (though I won with my nachos). Even cooler: They stock a local Barcino beer and make both straight and frozen margaritas, piña coladas, and daiquiris. Just be sure to go early (around 8:30-9 pm) if you want to get a seat as they have just one large room for the kitchen, bar, and three bar tables.
L'Antic Bocoi del Gòtic -- This place was recommended to us by our taste Barcelona tour guide for having traditional Coca de Recapte, a kind of Catalan-style pizza. The restaurant has a neat location inside an old building that's part of the original Roman wall. On our late-night visit following our Spanish guitar concert, we enjoyed both the sausage and pepper coca de recapte and especially the cod and roasted red pepper coca de recapte. I would suggest you try it if you're looking for something off the beaten path.
Jamón Shop -- While walking around Barcelona and Tarragona, we passed by several jamón shops with rows and rows of Iberian ham hocks being carefully carved for everything from cones of scraps to snack on to sandwiches for a full meal. I really enjoyed the Enrique Tomás store by our apartment. No matter where you choose to try it, don't leave Barcelona without getting some good Iberian ham.
Bosc de les fades -- This bar is located next to the wax museum along La Rambla. I still can't decide if it was kitschy or cool, though you really should try it for yourself. The bar is decorated a bit like a fairy cave with low lighting, secret corners, and fake trees that reminded me a bit of a Tolkien book or Shakespeare's Midsummer Night's Dream. We were there a bit early on Halloween night (around 10 pm) and there seemed to be several families with young children there enjoying the scenery, though they were gradually being replaced by an older crowd near the end of our stay. Be forewarned that the drinks are a bit pricier than at other bars (since it's on the main thoroughfare) and the selection is limited to the basics, but really, you go for the atmosphere at this place. How many people can say that they drank in a fairy cave?
La Flauta -- Another recommendation from our taste Barcelona tour guide, this restaurant in the L'Eixample area may have been my favorite tapas place in Barcelona. We had a fantastic meal of fried camembert with raspberry jam, patatas bravas (that we joked were served German-style rot-weiss with both brava sauce and garlic aioli), a fava bean salad with ham and shrimp, fried baby squids (my favorite!), chicken and ham croquettes, chorizo and cheese sandwiches, flan, and the most amazing sponge cake layered with crema catalan and drenched in a lovely chocolate sauce. We also had great service, red wine, and dessert wine to boot. The only thing I would say is that sitting outside may not have been the best choice as the thoroughfare was busy with both car and foot traffic. Next time I'd choose to sit inside the restuarant.
Lolita -- Okay, no really, this was my favorite tapas restaurant in Barcelona. It was recommended to us by one of my Spanish coworkers and we decided to go looking for it while on our tapas crawl on the last day of our trip. The décor is super cool and they have a nice outdoor/indoor bar along with some patio tables. The tapas is more modern than traditional, and we had a fun time perusing the menu. With a little help from our waiter, we settled on a pincho of an olive wrapped in an anchovy with a pepper, followed by seared tuna in a ponzu sauce, a kind of fried meatball, a juicy mini burger, and the most amazing chicken tenders fried in a potato chip batter with a turmeric aioli. The meal was nothing short of incredible! I only wish we lived closer and could go back to try more dishes.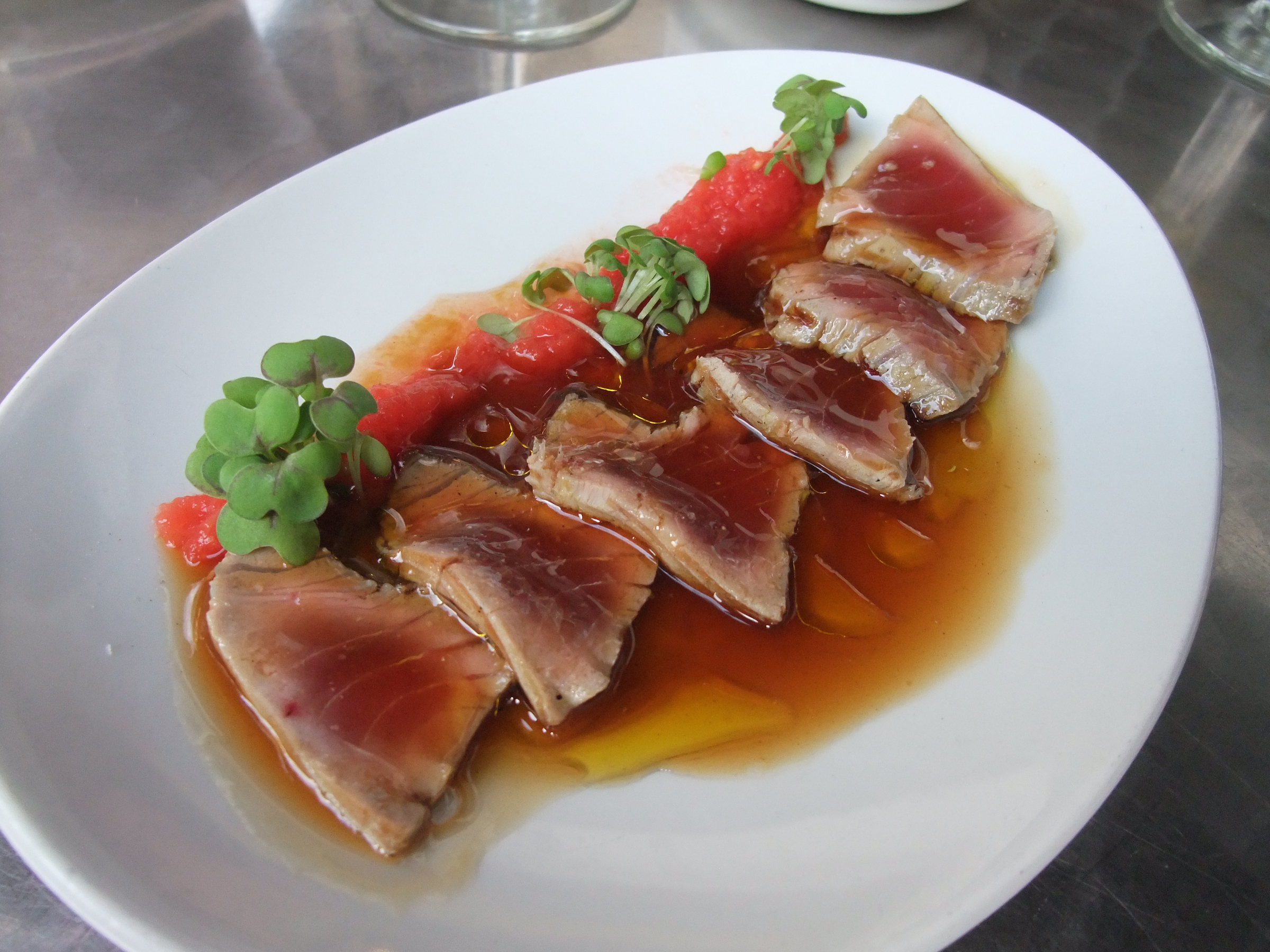 Phew, so that sums it up. As you can see, we ate A LOT of amazing food thanks to a number of recommendations that we got from both friends and from our taste Barcelona tour guide (which is another reason why I love taking food tours). Be sure to check them out if you take a trip to Barcelona, and let me know if you find any other great gems yourself. I fully intend to return someday soon when I need my patatas bravas fix!