I'm really excited to write this post, because the Stuttgart Christmas Market is my favorite Christmas market in the area. Yes, I know I'm a little biased because I live here, but of the handful that we've been to over the past three years, Stuttgart still stands out in my mind as the best, and for good reason. According to the market's website, Stuttgart has had a Christmas market for over 300 years, beginning officially in 1692 (and probably earlier that than, just not on record). Today the market has grown to over 280 stands with over 3.5 million visitors each season.
Because the market is one the biggest in the region, I quickly realized in preparing for this post that I will never be able to capture all the visual wonder of the market. I'm an amateur photographer at best, and I'm still not very assertive in getting up close and getting the photo I want (though I'm trying to get better!). That's why I hope at the very least that I can give you some tips on what to see, buy, and eat so that you'll be compelled to go yourself.
I should also note that because we live just a ten minute walk from the market, we tend to go several times over the course of the month. So while my current pictures capture most of what I want, I'll try to keep updating the post as I make more visits for food and gifts.
Where to Go
There are several different areas of the Weihnachtsmarkt. Of course you should visit it all, but if you're only in town for a short period of time, then it helps to know what's where.
In front of the Neues Schloss -- The area in front of the new castle has most of the children's rides, including a small carousel, Ferris wheel, and train. There's also a craft stall where you can make your own candles, and a skating rink for both adults and children. Note that there's also a row of food stalls in front of Alte Kanzlei called Schlemmergässle with more food choices (like burgers and pizza) if you you're looking for something other than traditional German food.
Karlsplatz -- This tree-lined square between the old castle and Grand Café Planie usually hosts the Saturday antiques market, but during the month of December they set up a permanent antiques tent. There's also a Finnish Weihnachtsmarkt there, which you'll recognize by the giant teepees with wooden stools and furs to keep you warm. They specialize in smoked salmon, packaged foods from Finland, and the Finnish version of mulled wine, glögi.
Altes Schloss -- Make sure you stop by the Altes Schloss around 5 or 6 pm (deepening on the schedule) to catch one of their nightly concerts. The Christmas decorations around the lovely inner-courtyard with music from carollers or an orchestra is very festive.
Schillerplatz -- This area behind the Alte Kanzlei restaurant has a small number of stalls selling mostly gifts, like soaps, ceramics, baskets, and other cute knick-knacks. Definitely make a stop here if you're mostly shopping.
Rathaus -- The area in front of the Rathaus (town hall) has the largest number of both food and gift stands. Here you'll find a wide variety of goods, from kitchen pans and cleaning solutions to silver jewelry and craft ceramics. Be sure to check out the giant Advent calendar on the face of the Rathaus.
As you walk around, listen for the many street musicians. They range from little kids on recorders to some of Stuttgart's well-known street artists who play along the Königstraße. No matter what your fancy, just be sure to keep a coin or two handy in your pocket so that you don't have to dig around in your wallet in the middle of the street.
What to Buy
There are so many great things to buy at the Weihnachtsmarkt that I usually save most of my Christmas shopping for my family back in the States until now. Here are my top six gift suggestions:
Wood carvings -- I think most people would think of Germany or Austria when they think of nutcrackers, but there are tons of other wooden carvings, like nativity figures and scenes, Weihnachtspyramide (Christmas pyramids), children's toys, and small, delicately carved ornaments. The best stall is just in front of Alte Kanzlei where they have the widest variety of flat wooden ornaments, which are especially easy to slip into a Christmas card and pop in the mail.
Hard candies -- Germans really love their hard candies, which are usually pretending to be throat drops, and you can find so many different homemade varieties here. My favorite flavors are glühwein and ginger, though you can also find the usual raspberry, lemon, honey, and even licorice.
Tea -- Tea is very big in Germany, as well, and there's one for every ailment. On your visit to the Weihnachtsmarkt, check out the special Stuttgart Christmas tea blend with a lovely picture of the old market square on the front of the back. You might also be interested in a pack of glühwein mulling spices while you're at it, so you can take the magic home or share it with a friend back home. Both gifts ship well.
Ornaments -- What Christmas market would be complete without ornaments? My favorite kinds are the delicate glass ones in the shapes of cars, shoes, pickles, and various animals. If you want to get something to remind yourself of your time in Germany, then go for a pretzel or a red-topped mushroom, which is a popular symbol for good luck.
Etched glassware -- There's a stand in the Rathaus square where you can buy your own beer glass, stein, or German-style stemless wine glass at a very reasonable price, and then pay to have it personalized. One year we got my brother-in-law and his wife their own glass beer steins that were etched with their nicknames for them to take home with them.
Lighted stars -- These paper stars have elaborate patterns cut into them so that when you turn on the lightbulb inside, they create a gorgeous mosaic of light in your home. We have a white one in our kitchen, though you can also find them in red, orange, yellow, and most other colors of the rainbow. Just be aware that the light-bulb cords they sell with the stars have the European two-pronged connector, so this may be a good gift for yourself or a friend in Europe.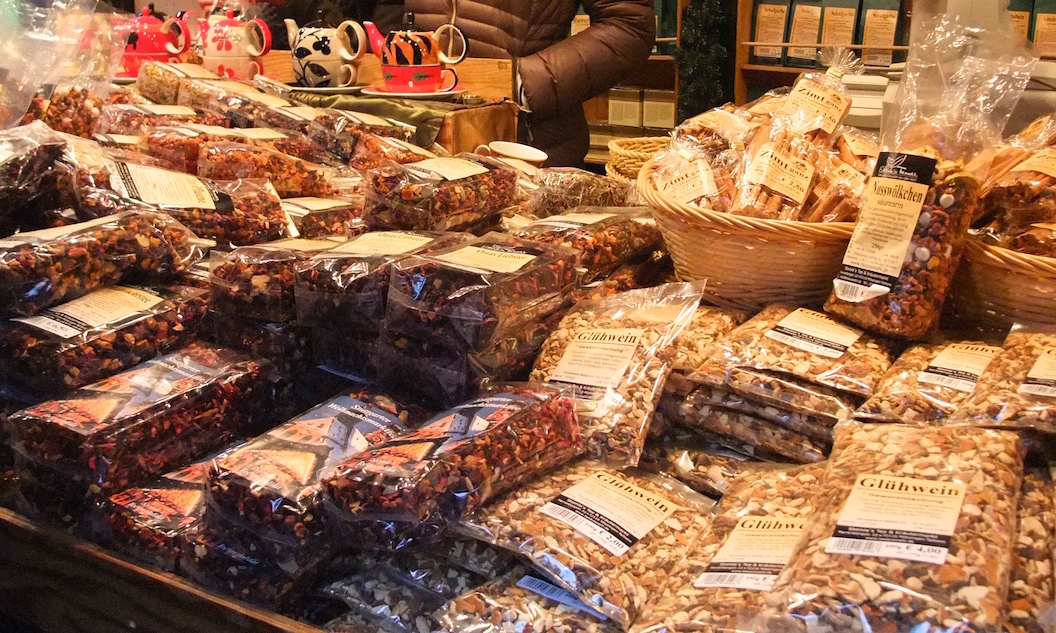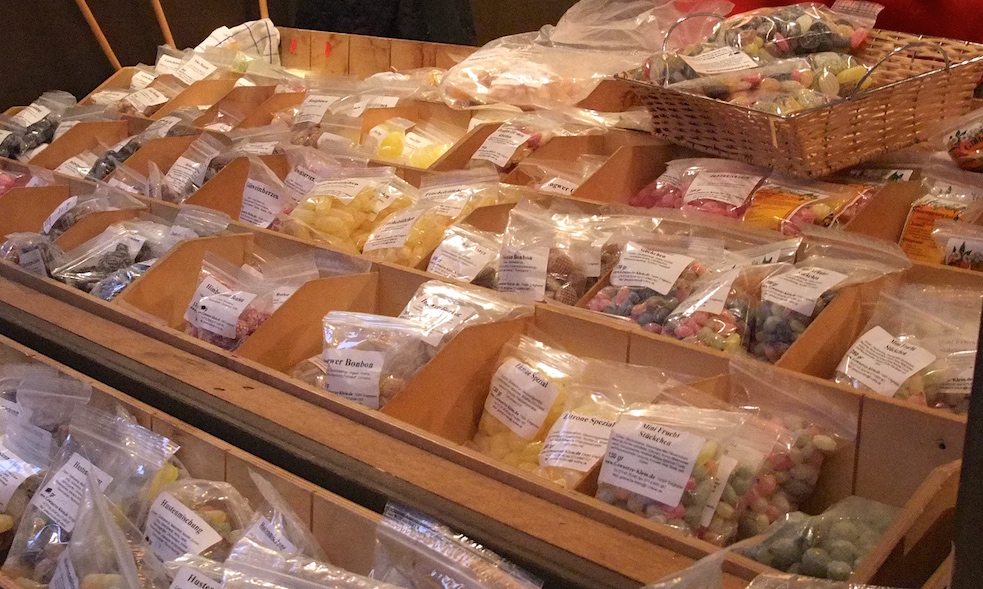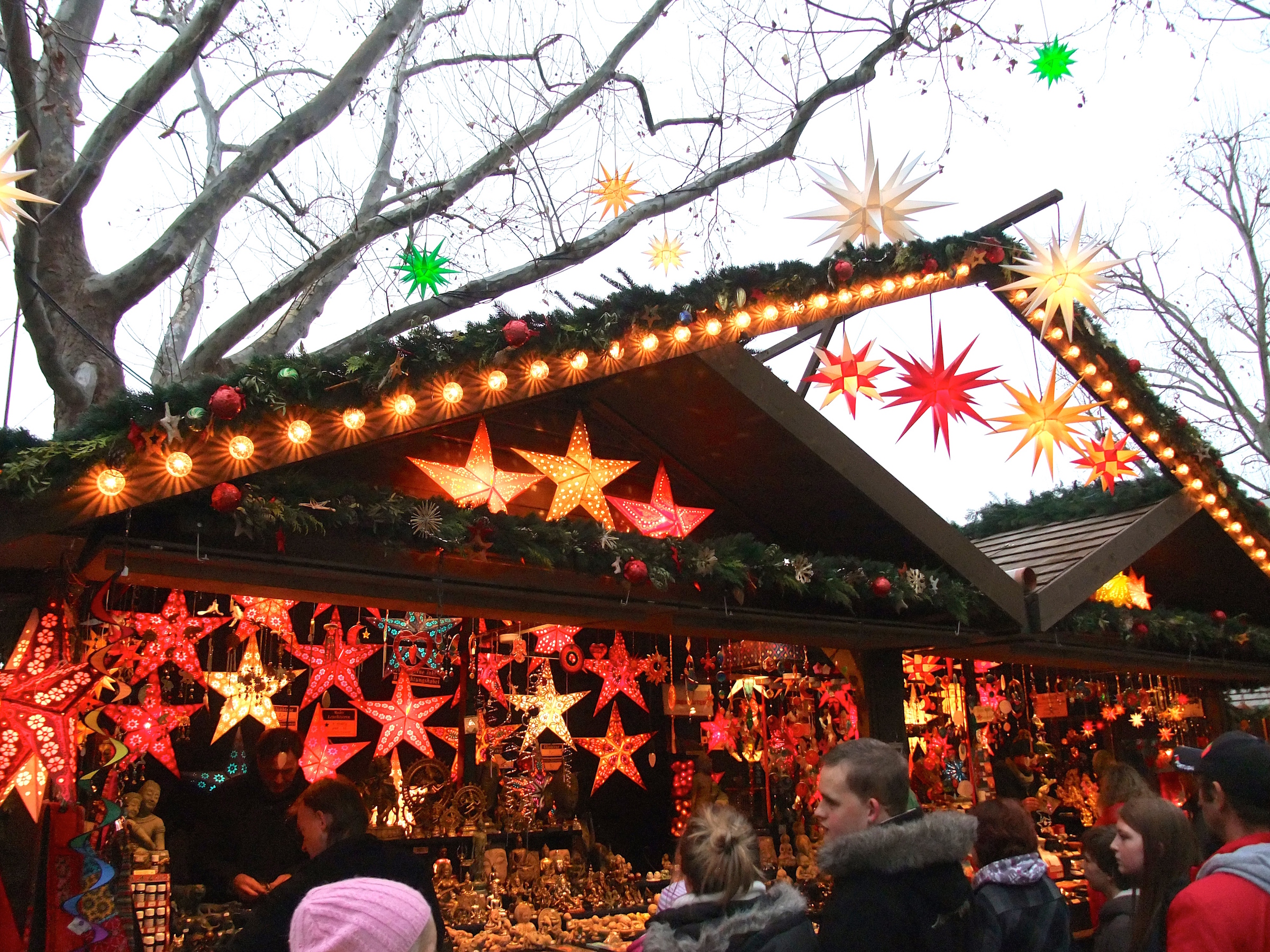 You can also find tons of hats, gloves, leather wallets and bags, silver jewelry, embroidered tablecloths, mugs and other tableware, ceramic candle-holders, cured sausages, liqueurs, jams, soaps, pots and pans, wooden and silicon kitchen utensils, vegetable peelers, and more. No matter what you're looking for, don't forget to look up. All of the stalls have elaborate decorations from giant wooden Christmas pyramids to stuffed reindeer pulling Santa's sleigh, all to get you into the Christmas spirit.
What to Eat
Again, there are so many great things to eat at the Weihnachtsmarkt, which is usually why we have to go several times during the month to try it all. Here are my top seven food suggestions:
Glühwein -- Glühwein, Germany's version of hot, mulled wine with cinnamon, cloves, and other spices, reigns at the top of my list because it's the best part of the Weihnachtsmarkt. Whether you need to warm up while you're shopping or if you want a drink with friends after work, reach for a mug of Glühwein. Of course if Glühwein isn't your favorite, then you should also try the white mulled wine or the German-style eggnog made with egg liqueur.

Note: When you get a glass of Glühwein, you'll pay a fee (called a pfand) on the mug to take it with you. When you're finished with your wine, you can return the mug to any stall that sells Glühwein around the market or keep the mug. You can also buy a new mug from the information stand at the entrance to the market by the Altes Schloss.

Schupfnudeln mit Kraut und Speck -- As I wrote in my blurb for Eating Wiesbaden, these thick, rolled noodles are a bit like long gnocchi and very common in southern Germany where they make big frying pans full of it at the Christmas market. I love eating them panfried in Sauerkraut (pickled cabbage) with bits of meaty ham. It's the perfect savory dish to warm me up while out and about doing my shopping.
Duck nuggets -- There's this great stall that specializes in duck behind the Altes Schloss. They have whole roasted duck, duck sausage, and Schupfnudeln with duck, though my favorite are the duck nuggets. These little fried balls look a bit like the Dutch Bitterballen, but instead of gravy inside, they are chock full of tender duck meat. Last time I got the chili sauce, which was just okay, so I would recommend a little mustard on the side instead.
Raclette toastie -- You'll find this Swiss stand in front of the Cube in the Schlossplatz that makes the most amazing toastie with raclette, a kind of semi-firm Swiss cow's milk cheese. To heat up the cheese, they warm the block under a tiny broiler and then scrape the melted cheese onto your toast. Delicious!
Rostbratwurst -- Yes, I know that German sausages are typical at most festivals, but there's a stand right at the end of Kirchstrasse on the edge of the Rathaus square that makes a delicious 1/2 meter-long sausage. The sausage is so long that they have to cut it in half just to fit it into a full-sized baguette! They also have some pretty funny (and practical) udder-like condiment dispensers for your sausage. Trust me, it's worth the laugh and the flavor.
Roasted chestnuts -- I don't know about you, but growing up I'd always sing Christmas carols about "chestnuts roasting on an open fire" without having any idea what they tasted like. Here they're a common sight at the Weihnachtsmarkt and boy are they good! They warm your hands as you peel the shells and fill your belly up with something other than meat and bread, which are usually the more common savory finds at the market.
Candied nuts -- And of course, you can't leave the market without a cone of candied nuts. German sweet stands will add a sugar coating (or a chocolate one or a vanilla one or a chili one) to just about any nut, but my favorite is still the traditional sugar-coated almonds. That said, the candied cashews are a close runner-up, and if I ever find candied pecans, then I'm certain they'll be my new favorite.
The above list are my favorites, but there's also plenty of Flammkuchen (Alsatian-style pizza), Dampnudeln (steamed sweet rolls usually served with cream and jellied fruit), Langos (Hungarian fried bread with a sweet or savory topping), french fries or wedges, chocolate-covered fruit, and various flavors of crêpes. In short, whatever you're craving, I'm sure you'll find it! And above all, come hungry.
When to Go
The market is open every day from 10 am (11 am on Sundays) until 9 pm from now until December 23rd. I suggest you go on a weekday if you can as the weekends usually tend to be quite packed. Of course, if you work during the week (as I do), then try to go earlier in the day on the weekend. I went out today (a Sunday) around 2 pm and the market was still pretty busy. By the time I left around 3:15 pm, I could barely walk without being jostled by the crowd.
Note: As with most markets in Germany, dogs are more than welcome as long as they're on a leash. Just know that when it gets busy at night, the crowds can be a bit dangerous for smaller dogs. We often have to pick Leo up (and he's not a light beagle anymore) when the crowds get thick or we leave him at home if we know we'll be out late.
Have you been to the Christmas market yet? What was your favorite part?