With so many guests in town over the holidays, we naturally had to schedule a few events to keep us all occupied and to give our family the chance to get the most out of their time in Europe. One place that they all wanted to visit was Zurich in Switzerland, and since we'd never been before, we gladly agreed to go for a quick day trip.
The day was especially eventful as it began to snow as soon as we left our house, making for a lovely train ride south. The train system in Europe really is superb. From Stuttgart it only takes about three hours to get to Zurich. And since we were traveling with six or more guests (Leo, our beagle, included), we got Deutsche Bahn's special rate at only 40 euros per person round trip. Sadly, upon our arrival, the snow quickly turned to a slushy snow-rain mixture. Despite the setback, after changing some of our euros into Swiss Francs at the train station, we made our way down Bahnhofstraße to explore the city.
I'd read online that Bahnhofstraße was the place to go. You can see high-end shops like Longchamp, Cartier, Burberry, and Louis Vuitton on one side of the street and more "normal" shops like H&M and Zara on the other. I was particularly surprised to see an Oscar de la Renta gown in a shop window as I've never really seen one before. We weren't really much in the shopping mood around such fancy places, though we did stop in the Victorinox store to check out the original swiss knives and watches for my brother-in-law.
Another great spot was the Confiserie Sprüngli. I was impressed by the range of their products, from fresh-baked breads, to small hor d'oeuvres and, of course, chocolate. I walked away with a small box of truffles and pralinés, including a delicious pistachio praliné, for the train ride home. Best of all, while shopping for chocolates, I could use German and my sister-in-law could use English, as most of the people we met were bilingual.
The weather really started to turn nasty between the snow-rain and cold wind, so we decided to go to lunch early. Unfortunately, the restaurant where we'd book a reservation was not ready for us. And so, we walked a bit further to the end of Bahnhofstraße to see Lake Zurich. The lake was lovely, though I imagine it must be prettier in the springtime during clear skies when you can see the mountains. Instead, we got to see a lot of swans and clouds -- and that was about it.
After seeing the lake, it was time to warm up. We were ready for lunch at our chosen spot: Restaurant Zeughauskeller. I chose this restaurant because it got some decent reviews on Yelp for having traditional Swiss food. And though the reviews did say it was touristy, they also said the locals still frequented the restaurant, too. Mostly I liked the look of the menu (they have a sausage served on a sword!) and the location inside of an old armory.
To eat, I ended up choosing the steak tartare as I was still craving all the yummy tartare I'd eaten in Paris. As a side, I also ordered the giant Swiss Rösti. My tartare was nice -- it had a bit of spice in the mix, and came with some lovely pickled onions. My Rösti was also rather good, though too big for me to finish. Matt tried a kind of sausage with potato salad, which I have to say was delicious. It was creamy with just the right amount of mustard. Overall, the food was good, but not wow.
After we'd warmed up at lunch, we headed out again into the cold. We visited a few of the churches for my sister-in-law, including the Grossmünster, Fraumünster, and St. Peter's Church, and headed into the old city to check out the shops and architecture. The little winding streets and colorful houses were absolutely lovely! Honestly, had I have known that Zurich could be so pretty on the other side of the river, I would have made the old town our destination to begin with. There also seemed to be a lot of really cool little shops about that I would have liked to have gone in. As it was, the sun was starting to set and the day was ending. Most of the shops were closed or closing, and we were ready to go back to the train station.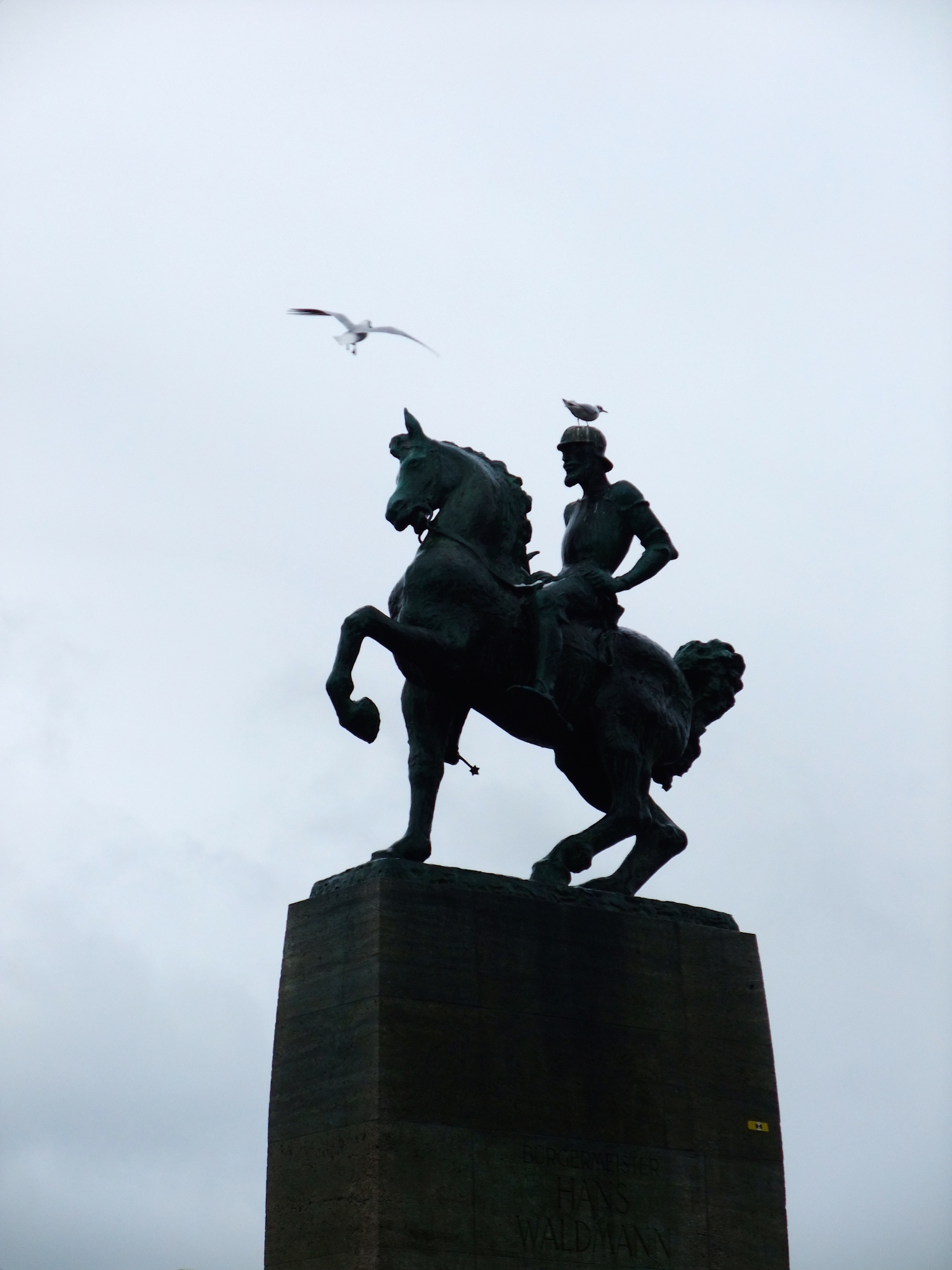 Overall, I was struck by how small Zurich was. It has a very compact city center, and I felt that we covered most of it on foot in a day. That said, I would like to return on a day when the weather isn't quite so ugly so that we can enjoy some of the shops and restaurants in the old town. I also still want some real, Swiss fondue! Yes, Zurich was more expensive than Germany, but what with the easy train travel and convenience of money changing at the train station, I'm sure I'll return again someday.
Have you been to Zurich? I know I missed a lot, so leave some suggestions in the comments below and I'll try to do them all on my next trip.